Flipboard
2.3.9
Be conscious
The Web is an information universe. An aetheric sea of web domains and pages all encapsulated into a very large computer superstructure. We are the internauts. We navigate the information sea and we jump between domains while being in multiple places at the same time, just like those funky subatomic particles.
But in case you're tired of the same old way of navigating in order to feed your curiosity, you have an alternative. As you might know, there are different ways of experiencing reality. Flipboard is the equivalent of a visionary plant and it will take you places without touching the address bar.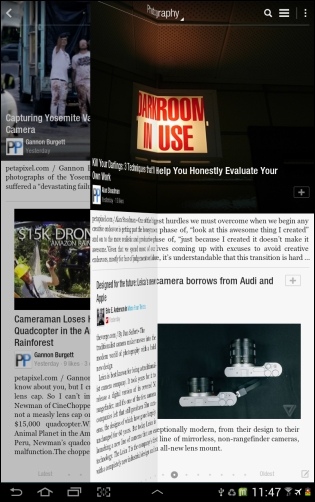 Peeling the onion
Flipboard is an online magazine app. But it's more than that because it can incorporate web pages. Navigating it may be a bit daunting at first but you can soon get a hang of browsing Flipboard stile. The main technique used to navigate is by swiping a finger left or right (or "flip" as it's called), which simulates turning a page. These pages contain all sorts of headlines and full articles about every subject imaginable (this might be an overstatement) and they're all linked together to form a smooth browsing experience like no other.
The main cover screen will greet you every time you launch Flipboard and will contain tiles for your selected interests and subscriptions. Tapping one will bring article previews from where you can navigate further to the articles themselves. Now there are two ways to get stories in Flipboard. One is to check the general interests that are provided. These gather articles from different publishing sources that are well organized. The other is to subscribe to those sources directly or search for specific ones.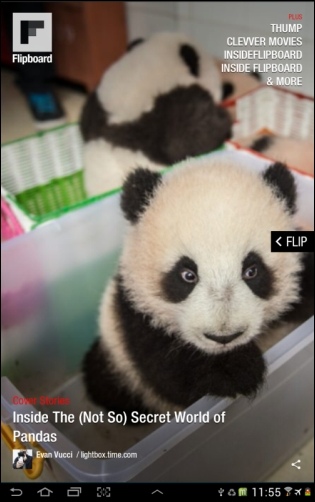 When you do search, a side bar will display everything related to your keywords. The search result is broken down into derivations such as Flipboard articles, Google+ users, Twitter tweets or RSS feeds. Most of the time the content will be organized into flip-able pages but when that is not available then a standard web page will be displayed. Still, pages might fail to load sometimes, probably because of some inter-dimensional interference.
Features
Magazine subscription – Content that you explore can be added to your cover page by the tap of a button.
Structured search results – Flipboard organizes your search results into clear categories
Own magazine – You can create your own magazines that include any Flipboard content you add.
The subscriptions are the most useful feature of Flipboard. Every time you see your cover page you will get a snapshot of the most recent articles on your preferred subjects. Creating your own magazine is also a good way of storing articles that you have enjoyed reading.
Pros
A wealth of articles. Flipboard will not bore you.
You can be the editor of your own magazine and have a subscriber base.
As the search results are organized, you can find your desired type of content more easily.
Cons
The navigation method might be a bit confusing at first. Also pages can be flipped by accident.
Sometimes the pages don't work and links don't work.
Ads creep right between article pages.
Conclusion
Flipboard is a fresh way reading news and articles on the web. It's exactly like holding a living magazine while relaxing on your comfortable sofa. It also saves paper consumption if you find that as being a plus.
---
Add a review
Tell us your experience with
Flipboard
2.3.9
RELATED PROGRAMS
Our Recommendations
---
---
---
---